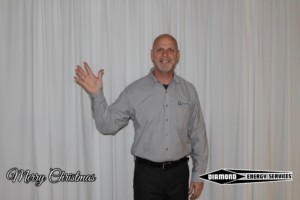 The photo booth will never be the same again now that TapSnap has arrived in southern Alberta. Launched this April at various locations across North America, TapSnap is the special event photo booth reinvented as an open-concept, high-tech phototainment system that is instantly connected to social media.
TapSnap allows event guests to take their picture with a touch of the fingertip to the giant 42-inch multi-touch screen, draw on their photos, and add digital props like funny hats or googly eyes. When they are done, they can share their creations instantly via social media networks and email, or print their photo to take home.
"Photo-sharing and social media is huge, and it's still a growing trend. TapSnap gives people one-of-a-kind photos from their special event. I've never seen people have so much fun taking pictures," said Allison, whose photo booth is available to attend events – everything from weddings to golf tournaments to corporate events and graduation parties — in southern Alberta and Saskatchewan.
TapSnap is Allison's second part-time business. He also operates four DVDNow Kiosks that rent movies and Blu-rays with his business U Do It DVD Enterprises. Because the kiosks are automated Allison can manage the business, and raising his two teenagers, in as little as 10 hours a week. When DVDNow announced they were launching their new TapSnap franchise, Allison was on board because of the people behind it.
"We're having fun. With DVDNow and TapSnap, the culture encourages that. They even call one of their staff people 'the Director of Fun'. I know they'll be available to me when I need it. People here care," he said.
Allison is a trailblazer, one of the first franchisees of TapSnap, which launched in the US in April this year. The invention of a Vancouver, Canada company, TapSnap is rapidly franchising across North America and is now operating in: Los Angeles, Calif.; Wichita, Kan.; Minneapolis, Minn.; Charlotte, N.C.; Cedar Knolls, N.J.(will cover NYC); Fremont, Ohio; Portland, Ore.; Philadelphia, Penn.; Charleston, S.C.; Houston, Texas; Park City, Utah; Lethbridge, AB; and Peterborough/Toronto, ON. A company-owned franchise has been running since last summer in Vancouver, Canada where TapSnap is based, and another 12 franchises will be launching in a few weeks.