A Day in the Life of a TapSnap Franchisee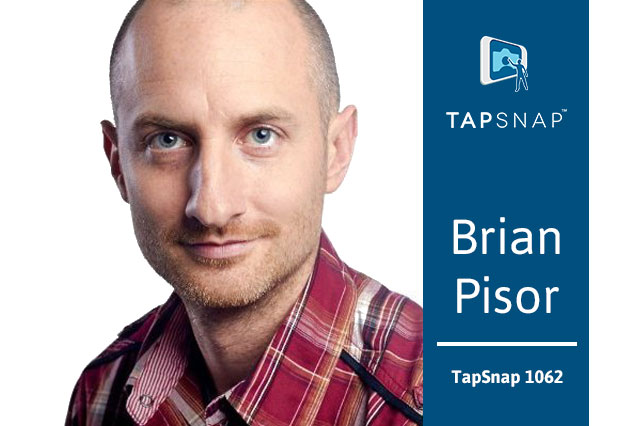 Every morning at 7:00 AM, Brian Pisor wakes up to the happy faces of his wife, Wendy, and dog, George. After getting up, he makes a quick and healthy breakfast, takes his vitamins, and tries to meditate for at least 20 minutes before starting his day. Having started as a part-time franchisee, while keeping his day job, Brian's hard work has paid off, as he's been operating TapSnap full-time now since 2015. Brian started his franchise in 2013 and recently renewed for a second five-year term. During that time he's been working hard to build a team to service corporate, social, musical, and sporting events in his area.
Brian is meticulous about customer service and the experience his clients have when doing business with TapSnap. He currently manages the majority of the sales and marketing efforts, and has a "high-touch" approach with each client to ensure their experience is top notch.
In the mornings, he frequently attends networking events at 3 separate chambers of commerce. In December 2015, he also joined his local NACE Chapter (National Association of Catering & Events), and was elected to chair a sub-committee and attend the chapter board meetings. These networking and industry events have opened doors to several key relationships, including popular venues, meeting planners, and other event professionals who have become a great source of referrals, alliances, and partnerships.
When he's not out networking and attending events, he's managing his leads, sales proposals, and fulfillment of services. Debbie assists with business development activities, and Trey, Andrew, Krista, and Jason help service events on a part-time basis. Brian usually handles the coordination of these activities in the mid-morning.
Brian frequently reserves lunchtime for a meeting with a client, channel partner, or prospect. He likes a good mixture of computer time and face-to-face interaction each day to feel energized and accomplished. It's not uncommon for Brian to meet for lunch with a media company or non-profit to advise them on how they could bring additional up-front revenue and excitement to their fundraiser by adding a Photo Sponsorship package into their packet.
In addition, Brian actively seeks out best practices from other members of the TapSnap franchise network. He keeps tabs daily on conversations flowing through his inter-franchise communication tool, about graphics ideas, photo and lighting configuration and techniques, sales and marketing tactics, and helpful equipment recommendations. He recently paid a visit to his nearby TapSnap colleagues, Dave and Jill Enav at TapSnap Charlotte. Since Dave and Jill have a larger operation, Brian learned about their team configuration, pay structure, and also walked away with some great tips.
In the afternoons, Brian tries to follow up with any new contacts he's made earlier that day. He also follows up with recent clients for a quick debrief on their experience with TapSnap. Several times per week, he also sends handwritten notes to key contacts, accounts, and partners to thank them for their business.
Given the volume of new contacts being made since Brian has gone full-time, he and Debbie have developed a lead nurturing schedule to ensure that each account is communicated with at least every other month. This is done through phone calls, email campaigns, social media, holiday cards, invitations to special events, and even surprise drop-ins with gifts. TapSnap 1062 has even partnered with a local gourmet popcorn store, delivering samples of their popcorn to local businesses. It helps Brian build goodwill with his customers while helping another local business gain exposure to new potential prospects, and has been a great win-win so far. In this way, Brian and his franchise stay "top of mind" for their customers when services are needed for upcoming events.
Brian sometimes attends events for part of the evening to help his teams get set up and greet his clients. When he's not attending events, Brian sometimes works into the evening to get ahead on his To-Do list and strategic plan. He enjoys having dinner with his wife, performing improv comedy on stage at Alchemy Comedy Theatre, and going for walks downtown. He tries to get to bed by 11:00pm, run through his next day's calendar, and mentally prepare for a great new day ahead.