How Much Can You Make?
Each franchisee structures their business differently depending on their needs; some franchisees operate full-time with an office and staff, while others work another job full time and simply do events on the weekends. It's up to you how much time you invest, but just as it is with most things; you will get out of it what you put in to it.
Event Revenue
One of the questions we are often asked is, "how do I make money?" The simple answer is that you earn revenue from every event you book. So how much do you make for an event? Well that depends on what kind of event it is, how long it lasts, what add-ons and features they want, along with a whole host of other factors.
Event Pricing
How much you charge for an event is going to depend on a couple of elements. Does your customer just want TapSnap? Or do they want TapSnap plus Sharing Station plus SnapCast? TapSnap's fees are usually hourly and we add the other products per event or day. Are they going to need a green screen? That's another line item. How about customization? Add that to your event pricing as well.
Revenue is based on typical market pricing for an average wedding which includes TapSnap, SnapCast, and a green screen. Corporate revenue is based on average corporate pricing for a four-day event including TapSnap, SnapCast, Social Photographer, Sharing Station, and customization. Average gross revenue per event can be found in Item 19.
Your Average Social Event

WEDDING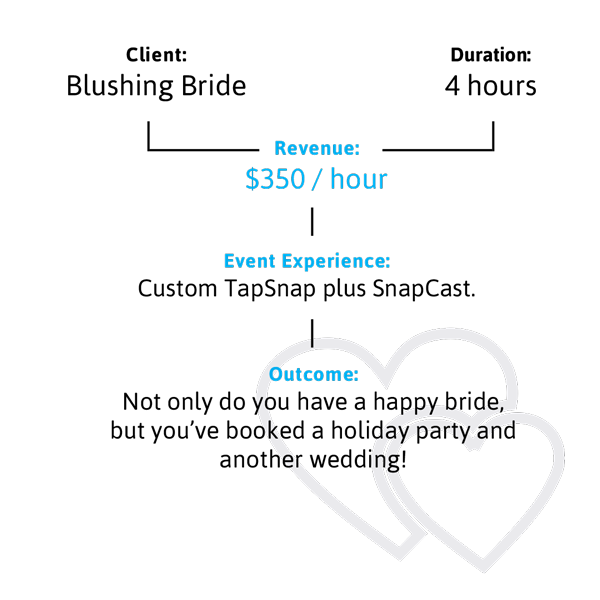 A Typical Corporate Event

BRAND ACTIVATION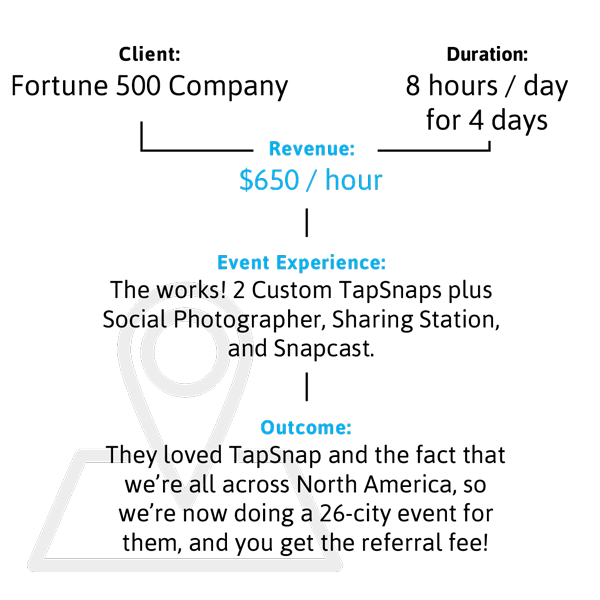 Event Costs
The majority of your event costs should be included in the price quoted to your customer, such as kiosk wraps and graphic design work. TapSnap's event costs are on average less than $15 per event, which generally includes photo paper. Your other major cost might be labor; your costs will depend on if you work the event yourself or if you decide to hire staff to work it for you.