How Much Does It Cost to Start and Operate a TapSnap Franchise?
A TapSnap franchise has a low cost of ownership and very minimal overhead expenses. For about $45,000 you can get started; qualified franchisees must have good credit and a minimum net worth of $20,000. You will not need to find a location or sign a lease as you can easily operate out of your home.
Startup Costs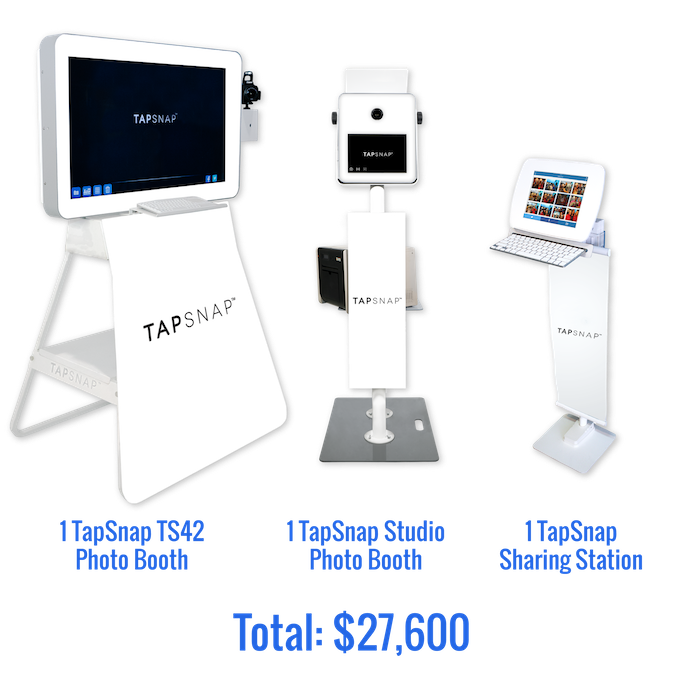 Franchise Fee
$17,500 for Marketing Areas with a population up to 500,000.
For international franchise and international master franchise fees, click here.
Monthly Fees
SnapBook: $40/month/kiosk
SnapBook is our proprietary software for franchisees to manage and oversee all of their event bookings, as well as the coordination of related features. You can also generate post-event reports to gauge usage metrics of email addresses, social network postings, and other types of user engagement. The SnapBook monthly fee not only covers the development and maintenance of SnapBook, but also kiosk software upgrades and 24/7 access to our technical support team.
Network Access and Administrative Software: $95/franchise user/month
Includes access to a leading Customer Relationship Management system, online resource library, franchisee forum, one TapSnap email address, and a Basic SmugMug account.
Royalty and Additional Fees
There is a 7% Royalty Fee on the total payment or value received for each event, an additional 4% goes towards the Call Center Contribution fund, and 3% towards the Branding Fund.